After 화유기, I've completed one korean drama, and started two new korean dramas that are still ongoing. One of them is Crash Landing On You "사랑의 불시착" starring Hyun Bin 현빈 and Son Yejin 손여진. Their new drama is really good as well as the plotline of the story which I will talk about in the next few days.
With that in mind, I was curious to see where they started, so I decided to watch the movie where they first worked together, The Negotiation.
S P O I L E R A L E R T
It was very interesting cause their characters acted most of the time on different locations. They only communicated through an online video call.
Why?
In the movie, Hyun Bin portrayed the a character, Tae Min Go, who is an industrious gang member, arms dealer, hostage taker, and more. While Son Yejin, played Ha Chae Yoon, compassionate and smart, an Inspector and expert Negotiator in the Seoul Police Department who had studied from the US.
First reaction, it was like a culture shock for me considering I just came in from watching their drama series, a romantic comedy, where their characters will fall for each other. Their characters are so warm and funny and have a glaring difference.
The movie started with a couple who taken hostage. It made me laugh a bit that the hostage takers were played by Filipino actors or extras, imagine my surprise.
Anyway, Inspector Ha was called in from vacation and went in inside the hostage situation without any means of protecting herself. Since, she's an expert, you think it will be fine, but in my opinion, her superior made the wrong call from the start. He should have given her a chance to negotiate properly. The hostages were killed eventually.
Inspector Ha gave her resignation and was rejected, but she was called in again to another hostage taking situation and was supposed to engage only through online video call. Here she meets, hostage taker charismatic Min Tae Gu.
I apologize but I won't tell the whole story. You can watch it on different korean websites and I highly recommend it.
It is very intense, thrilling, and full of suspense. The chemistry between Son Yejin and Hyun Bin is superb even though they were only talking through the monitors.
The movie didn't start out light like most korean drama series, a few minutes into the movie and you are already lured into suspense and adrenaline rush.
Sure, the movie has its own calming scenes to let you breath but once the scenes gets serious, it always shock you. It is very unpredictable. So this is for the movie goers who wants to be surprise by the outcome.
What I absolutely love about the movie is how they connected the mini plots to each other. I didn't see that coming and I like that a lot. ㅋㅋㅋ
I also love the writing and plotting technique. I remember that technique from my theater workshop but it was applied to the movie in reverse. In the technique, you will let the audience know a secret, but the important character doesn't know it which creates great tension.
In the movie, it was only one character who knows something. As the movie moves forward, the characters and the audience slowly catches on to what really happened.
In situations like this, the rapport that forms between people like them always astounds me especially because they are in different sides of right and wrong. I truly commend working people like them. 대박! So kudos to the actors who played their parts so well.
At the same time, it is raw and emotional. I love how in the end that I find myself emphathizing with the hostage taker, Min Tae Gu. He is not exactly the villain of the movie but he is in a way.
Ha Chae Yoon's character is fierce, and confident. She is such a spitfire!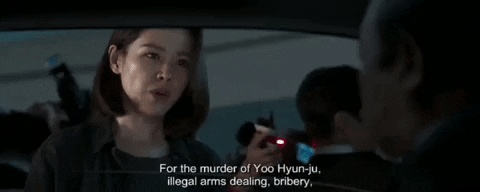 The movie is completely fictional but reflects the society in Korea. In real life, complicated situations don't always end up like this but in the movie, somehow, there's a little bit of justice.
I am very entertained with this movie but be warned that it is not a very light hearted drama.
For my next blog, tune in about what I think to korean drama series, 사랑의 불시착 "Crash Landing On You" starring the same actors.